Silver Prices Rose Over 40% in 2016: Will the Bull Market Continue? YES !!
Posted on July 19, 2016 by The Silver Doctor in Investing in Silver
Federal Reserve officials hinted at a rate hike as soon as next month, but that prospect did little to support the U.S. dollar or hinder precious metals. Gold and silver prices have surged to new highs for the year while the dollar made a new low.
Perhaps markets have already priced in another modest rate hike. Or maybe the markets simply aren't taking the hint! Fed officials' constant posturing and innuendo have long been contradictory and unreliable – and the Fed's economic forecasts have usually been wrong.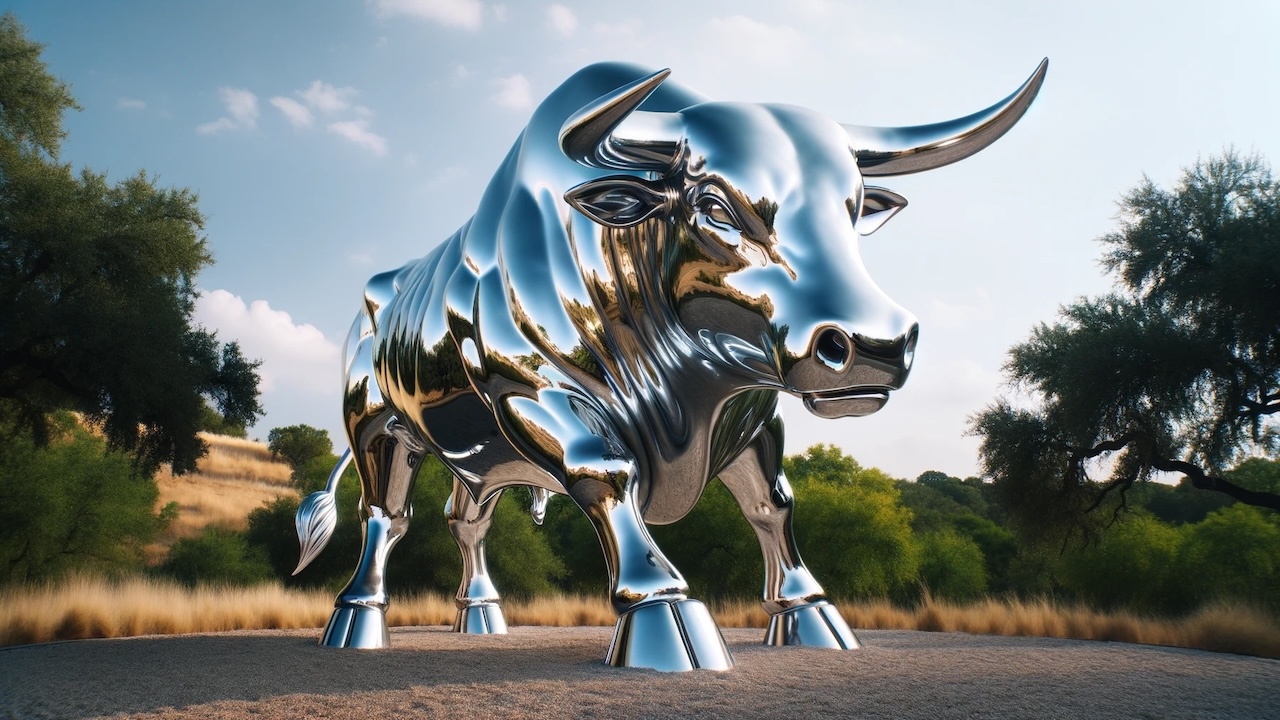 One thing is for certain – the metals are getting lots of renewed speculative interest and support from some good looking technical charts. Silver gained more than 16% in April, outperforming gold's rise of close to 5% – all of which came in the final week of the month.
And both metals closed above key overhead resistance on Friday and are looking strong so far this week. Open interest in silver futures made a new record in last week's Commitment of Traders (CoT) report. Gold open interest isn't far behind with more than 500,000 open contracts.
Some speculate the bullion banks, who are increasingly short, would like to orchestrate a price correction. Thus far, however, large sell orders have been sopped up by an overwhelming number of buyers. Anyone selling heavily short into this impressive rally certainly has to be nervous. It'll be worth watching the CoT report this week to see if there is evidence of the shorts beginning to cover.
Gold/Silver Ratio Confirming Upturn in Metals Markets
Silver started a bit slow out of the gate in 2016, but it hit its stride in April. The white metal is now up 29% (or $4/oz) since January 1, eclipsing gold's 22% gain.
Silver outpacing gold is good news for metals bulls, and not just for the obvious reasons. The move is an important signal that we can expect sustained higher prices for both metals.
The gold/silver ratio is calculated simply by dividing the gold price by the silver price to see how many ounces of silver it takes to buy one ounce of gold. This ratio has been a good indicator of market turning points. Why? Because silver historically leads the way, either up or down. Some investors questioned the recent rally in metals prices until silver confirmed the move higher by heading to the forefront.
Silver Bull Market
It is possible to interpret the strength in silver this past week as the completion of a possible 33-month H&S bottom with an extremely abbreviated right shoulder. The target of this pattern is 22.40, although a retest of the 2011 and 2012 lows just above 26.00 is very possible. I am most interested in buying a meaning correction in silver, although I doubt that a hard retest of 18.00 (right shoulder high) will occur. Traders who focus on Fibonacci corrections should remain alert.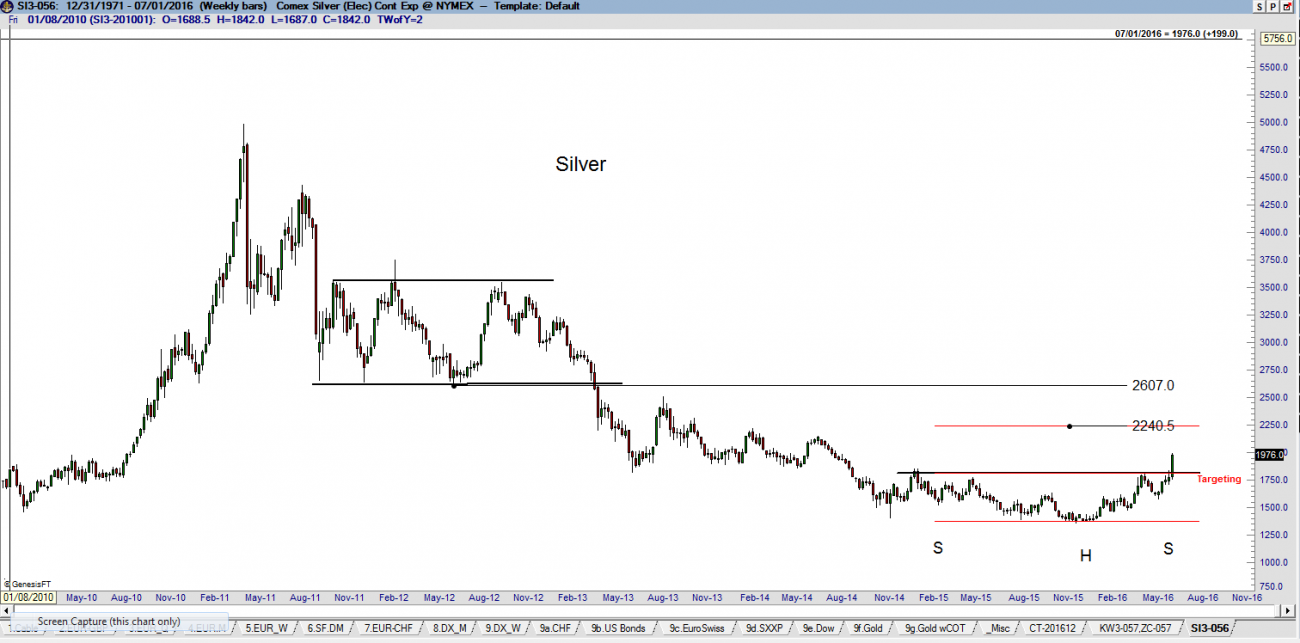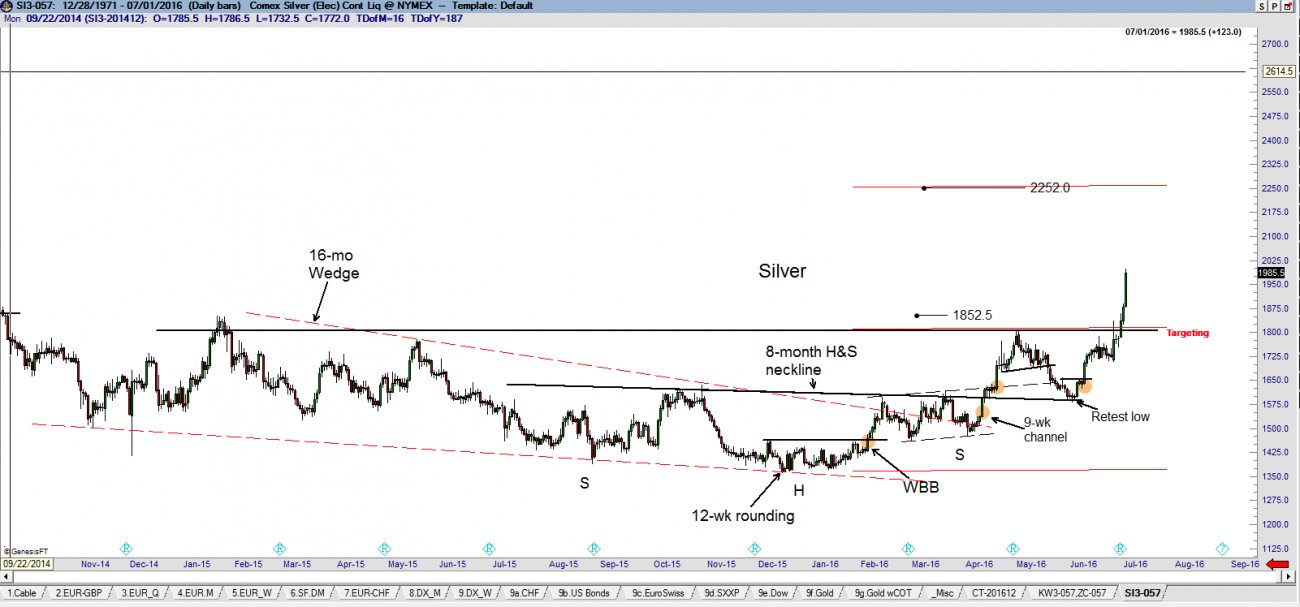 Silver prices have already appreciated over 40% in 2016, with the metal climbing on renewed safe haven demand. There is the argument that there is always the need for investors to have some safe haven investments in their portfolio, and silver is an attractive addition due to its affordability when compared to the other typical safe haven assets, which include gold and platinum.
So far in 2016, there have been many reasons to purchases safe haven investments, and combined with the fact that the Fed has delayed its interest rate hikes, silver prices have accelerated since June. This of course also coincided with Brexit, which also boosted the demand for safe haven investments.
To predict how silver prices will perform over the next few months, the main factors to consider are safe haven demand and US interest rates. In terms of safe haven demand, a big portion of this is unknown. We do know that Brexit will involve a prolonged period of uncertainty, but that could already be priced into the metal. What we don't know is if any other events to trigger an uptick in safe haven demand will occur. These include any potential economic or political uneasiness.
What we do have a better idea of, but this is also not a guarantee, is the fate of future US Federal Reserve interest rate hikes. At the beginning of the year, the Fed said that it would likely increase interest rates twice this year, so far only one rate hike has occurred, and the Fed has continued to hold off on another interest rate hike due to global macroeconomic concerns. Right now, expectations are that the Fed will increase interest rates in either September or December. If this is true, we could expect a correction in silver prices as the rate hike would make silver have to compete with yield-baring assets for investor's interest.
UBS expects silver prices will be choppy, and will average $16.80 an ounce for the year, while averaging $18.30 an ounce in 2017. Citi expects silver will average $16.95 per oz. this year and $16.50 next. Silver is currently trading above $20 per ounce, and the consensus remains that the metal is in the midst of a bull market and will continue to see upside this year; of course, a correction could be pending if the Fed increases interest rates.
Long Term Silver Bull Market Signal Falls into Place
As a newsletter writer who keeps an eye on the long term prospects for silver, there are a few indicators I follow which have proven reliable over the years past. When each indicator issues a buy signal in succession, the probability of a long term silver bull market increases and so does my confidence as a precious metals investor.
You will read various commentators who start pumping silver as soon as it makes a big move. That is not good enough if a reason is not given. We have seen big moves rise and fall these past five years, but none of them issued the buy signal that occurred yesterday in the silver market.
I am referring to the 20 month moving average for silver which is shown in the monthly chart below as a blue line threading through the silver candlesticks. The thesis is simple, when a given month's trading range for silver moves above and fully clears its current 20 month moving average, a long term bull market in silver has begun. There are only three times this has occurred for silver in the last 18 years – May 2002, September 2009 and now in May 2016.
When the two previous buy signals occurred, silver started bull markets which lasted 6.3 and 1.6 years respectively. The bulls ended when the silver prices did the opposite and fully traded for a month below the 20 month moving average; indicating a bear market was in force. These happened in September 2008 and May 2012.
Note that silver may yet flirt with this moving average and may track it for months (as it did through 2002 and 2003). However, the expectation from here is that silver will not fully trade below this moving average for a long time. There is still at least one long term buy indicator I am waiting on for further confirmation, but from here, it is increasingly looking good for silver in the long term.
Antique French sterling silver flatware and tableware products is very pragmatic and effective way to capitalize on the upcoming silver bull market.  Buy now while prices are low !!